About us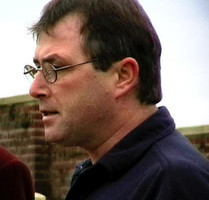 Original Australian tour company on the Somme
OUR CUSTOMERS
Colin and Lisa's customers are many and varied.  They come from a range of countries, but mostly Australia. They look for different experiences ranging from tours of the battlefields, to golfing holidays, to shopping excursions, to scenic and historic tours of this beautiful country.  They may be individuals, families or members of tour groups.  Many belong to organized excursions such as those undertaken by school groups.
OUR SERVICES
Battlefield tours are a speciality, from the First War World trenches of the Somme and Flanders to the D-Day beaches of Normandy in World War Two.  That's how their motto arose:  "FROM THE TRENCHES TO THE BEACHES".  There are also many other little known aspects of World War Two such as the Resistance Tour featuring the exploits of Violette Szabo and visits to the V-Rocket launching sites operated by the Nazis from 1944.
Scenic tours have become even more popular as travelers come to realize the benefits of being escorted through the natural and historical treasures of this country by someone as knowledgeable as Colin. 
Colin and Lisa can arrange accommodation at Normandy, on the Somme or elsewhere in France and Belgium.  For individual guests and smaller groups a suitable vehicle owned by the company is utilized.  Larger groups are catered for by the lease of luxury tourist coaches.
OUR TEAM 
Colin has lived in France for fifteen years and has been conducting battlefield and scenic tours throughout the country for most of that time.  He knows the country extremely well, is highly respected in the industry and well regarded throughout all the regions he visits.  This means that his customers get a lot of cooperation and easy access to all the sites they want to visit.  As well as that, they get very knowledgeable information, visits to unusual places, and interesting insights that are only available from the man considered "the best in the business".  See the attached report by John Huxley of the Sydney Morning Herald who toured the Somme with Colin and referred to the "encyclopedic local guide, Colin Gillard".  Click to view the Sydney Morning Herald Report.
While Colin is out guiding, Lisa is busy ensuring everything else is running to the requirements of their guests.  Lisa looks after all the bookings and administration of the business and this ensures that everything affecting the enjoyment of their customers is properly catered for.
Another component of our team is the group of business supporters with whom we work closely. Prominent amongst these is the Australian travel company French Travel Connection who have recently been named by the French Ministry for Tourism and the French Government Tourist Office as the:  "BEST FRENCH TRAVEL SPECIALIST AND WHOLESALER IN THE WORLD".  Colin and Lisa Gillard are proud to have contributed significantly to this outstanding achievement by French Travel Connection.