Our Battlefield Tours
FOR YOUR PROTECTION
Our tour company is fully registered with the French authorities and the Somme Tourist Board  and strictly governed by their code of practice regarding insurance and high maintenance of the tour vehicle.  The safety of our passengers is always our priority. 
SIRET NUMBER: 430 094 912 00036

Our tours are very flexible and will normaly incorporate as many sites of interest  as possible that clients wish to see , obviously main battle areas are a must  but sometimes our groups may have had family that fought in lesser known battles , these again  can usually be visited.

Main Battle sites in France - Somme -Pozieres , Flers , Villers Brettoneux , Peronne , Le Hamel , Mont st Quentin , Ligny Thilloy , Bapaume and Bullecourt.
Our tours then follow the line after the battles of Mont St Quentin to the Hindenberg line to the last Australian engagement at MontBrehain.
   
Other area that we visit - Fromelles , Armentieres , Plugstraat , Messines , Ypres , battles of Menen Road , Polygon Wood ,
Passchendael ,Tyne cot cemetery ,hill 60 and other areas too numerous to mention.
We can also add on your visit " Bayeux tapistry, Mont St Michel, Landing beaches and drop zone etc....."
go to  www.somme-normandy-tours.com
NEW TOURS
For many years, Cobbers Tours and its partner Somme-Normandy-Tours, have always been first in bringing new tours and sights of interest for its customers, the main reason for this is that living here in France and being the longest established official tour company here, we are able to work closely with locals and local governments in doing so access to areas normally not permitted are available to us.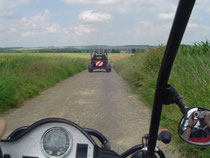 - BUGGY TOUR
One of our new tours for this year is our off road BUGGY tour, visiting areas off the beaten track not accessible by normal vehicle.  We are able to show you areas of the Great War that few people have seen most of this is on private land to which Cobbers Tours has full authority to visit.
Our 2 man buggy's are full all terrain and on road vehicles which gives us the opportunity to be able to cover far more ground between the battlefields of the Somme. With one of our guides leading you are able to follow us in convoy stopping regulary to talk about the respective areas and sites. This tour is unique and personal and has been designed for the visitor who has been to the Somme many times and is looking for that new experience.
Group tours can also be arranged e.g schools and organizations, clubs etc…
- CYCLING TOURS
Again another one of our tours on offer this year is for the more outgoing visitor who would like to visit the area with the freedom leisurely pace taking one of our cycling tours.   
All of our cycling tours are led by a professional Belgian guide one of the best on the western front. The areas visited are far too many to list but include Arras, Albert, Peronne and other places of interest on the Somme. In Ypres places such as Passendale, Messines, Tyne Cot, Hill 60. For other areas visited please contact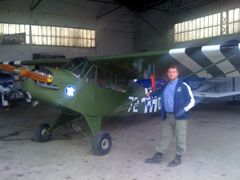 - FLYING TOURS
Due to popular demand from 2010, we will be re-starting our flying tours, from March both our WINGS OVER THE SOMME and our RED BARONS LAST FLIGHT TOUR will be available.
- CAMPING CAR HIRE
This  idea came to us because of the large number of people who have already toured with us on many of our different battlefield tours and have found the area that fascinating and welcoming that they have wanted to stay on longer in the area depending on what time of year this is not always that easy, one of the reasons being very busy periods ,  at times of special ceremonies accommodation is not always that easy to find  locally , also many of our clients who arrive here without transport who would normally have to hire a vehicle and pay additional accommodation costs who also have to think of budgets  this can sometimes work out expensive , our idea of renting a 6 birth  fully equipped camping car  can solve all those problems , you can be where you want , when you  want  and spend as much time at your special place of interest . Hire of this camping car is solely for clients who have already toured with Cobbers or Somme Normandy tours and want to stay on in the area.
NOTE:   with both the flying tours and buggy tours , these cannot be taken as stand alone tours and must be reserved with a minimum of a one day battlefield tour.